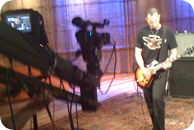 VIDEO PRODUCTION: Motion Video is Chicago's most versatile video production company. We specialize in ENG and EFP style video production, bringing the set to you. 15 years of location shooting experience combined with the latest in video acquisition equipment enable us to shoot in any environment.
Remotes or location shooting often present many obstacles, audio distractions are a very common problem that is often overlooked. Motion video employs experienced technicians and quality equipment to overcome these, sometimes project depended issues, that can drive a producer and editor crazy in post production.
Multi-camera production or "live switched" is often a cost effective way to cover a large event. Motion provides multi camera pkgs with qualified crews as a price competitive option . By switching cameras as the action unfolds, you are limiting post production time and producing a live edit. Multi camera pkgs are great for IMAG for corporate or music events.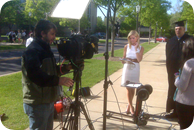 ELECTRONIC NEWS GATHERING (ENG):
Two and One man ENG Crews. We provide efficient quality news style production teams for the top networks. Most of our equipment purchases now are focused on location shooting. Panasonic cameras, lectrosonic wireless transmitters, sachtler tipods are all senonomous with excellence in the production industry. Coupled with 15 years of field production experience. Motion Video When you only get one chance to get the shot to tell your story, Motion is there.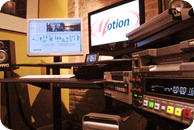 POST PRODUCTION: We offer a Final Cut Edit suite with P2, DVCPROHD, DVcam formats. Up to 2TB of storage are available, that can house up to 2,000 minutes of High Definition video. Motion also offers a portable laptop edit system, with all the above formats and storage. Location editing has become a specialty. Tight turnaround and precision shooting required.
SHOOT & EDIT PACKAGES: Motion also offers a portable production system, that enables you to shoot, edit, master and duplicate-all on location, with all the above formats and storage. Motion Video has been specializing shoot and edit location Pkgs for for the past 5 years. The nature of location post-production requires extremely competent editing professionals who can complete your upcoming video project from concept to completion in one location. Including dvd mastering and duplication on premises! No one does event coverage at the event like we do! Finishing With the advance of technology you have to be flexible. We can finish your video to DVD or streaming on the internet. We also do IMAG, image magnification, camera acquisition to projection Motion Inc. Video Production is Union affiliated.
INTERVIEW "Looks": The interview is a key component to any video. It introduces the human element or "voice of reason" to promote the message. When shooting with Motion Video, we can give the message a look that highlights the story by turning any location into a studio and providing state of the art Electronic Field Production(EFP) equipment. By lighting all interviews with Kino-flo and Arri lighting gear, making the subject and backgrounds "come to life" complimenting the story or message. Whether its NBC's "Dateline"or a web site testimonial, we work to provide an interview look that enhances the story our client is working to tell.
POLITICAL TV ADS: Click here for more information about Motion Video's poitical campaign tv commercial production services.