Bio | Awards & Articles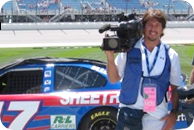 Michael Kaufman: Biography
Michael Kaufman is currently the president and founder of Motion Inc. Video Production, a video production company aimed at serving the needs of broadcast, corporate and advertising entities. He incorporated the company in 2001 in Chicago. His responsibilities include directing, producing, shooting and editing video. Specializing in news and magazine format, commercials and training videos for dvd and web distribution. His clients include: Fox News Networks, NBC, VH1, BET, ESPN, Mercedes-Benz, Kelloggs. He is responsible for generating new business, initiating company promotions, booking and hiring crews and talent.
Kaufman continues to respond to constant upgrades in technology, offering the best quality video while extending cost savings to Motion's clientele. Motion is now completely digital, converting acquisition and editing components to Panasonic's P2 platform as videotape is becoming obsolete.
Prior to his position with Motion Video Inc., Kaufman was a director, producer technical director and cameraman for various networks and production houses in Chicago.
Kaufman earned his Bachelor's of Art degree in video production from Columbia College in Chicago in 1991. He is married and lives with his wife Beth and daughter Cassie, on the North Side of Chicago.