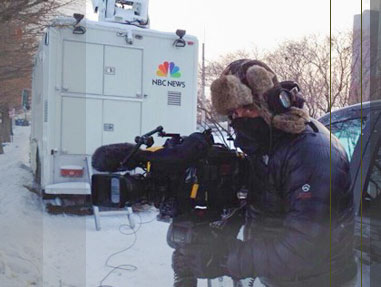 Motion Video is a specialized digital video production company, centrally located in downtown Chicago. We provide experienced crews and use cutting edge technology to deliver High Definition (HD) video communication services to broadcast and corporate clientele. Specialized because we excel at remote broadcast video production including "run and gun" ENG/ EFP style as well as multi-camera location acquisition. We use state of the art HD cameras and acquisition systems, all on Panasonic's P2 platform.
Motion Video also features on-location as well as an in-house editing suite for all your video post production needs. Our edit packages, whether in the studio or on-location, provides skilled editors, experienced at creating under tight deadlines and budgets.
Our recent projects include: ENG and live coverage of the 2008 Presidential Election campaign for NBC and Fox Networks, ENG coverage including on-location editing of the Mercedes-Benz Championships PGA Tournament in Kapalua, Hawaii, ENG coverage of NASCAR events and races, multi media DVD production and distribution, commercial video production in Chicago, and website video production campaigns.
Motion's Chicago video production crews have been shooting and editing video for over 15 years, resulting in experience, knowledge and creativity in the field. We often accommodate last minute bookings. We are available 24 hours a day, seven days a week.
Motion is centrally located in the River West neighborhood just over river from the Loop. With competitive video production pricing and quality editors, Motion Video can complete your project with the speed and quality that you require to meet today's tight deadlines and budget constraints.